The Invisible Picture Show is a relatively low budget project that wants to raise awareness about children in immigration detention centers. I like this project because it demonstrates well the possibilities that  cross-media campaigns offer to activist causes: it is about immersion linked to a clear call to action.
I asked director Tim Hawkins to tell us more about The Invisible Picture Show…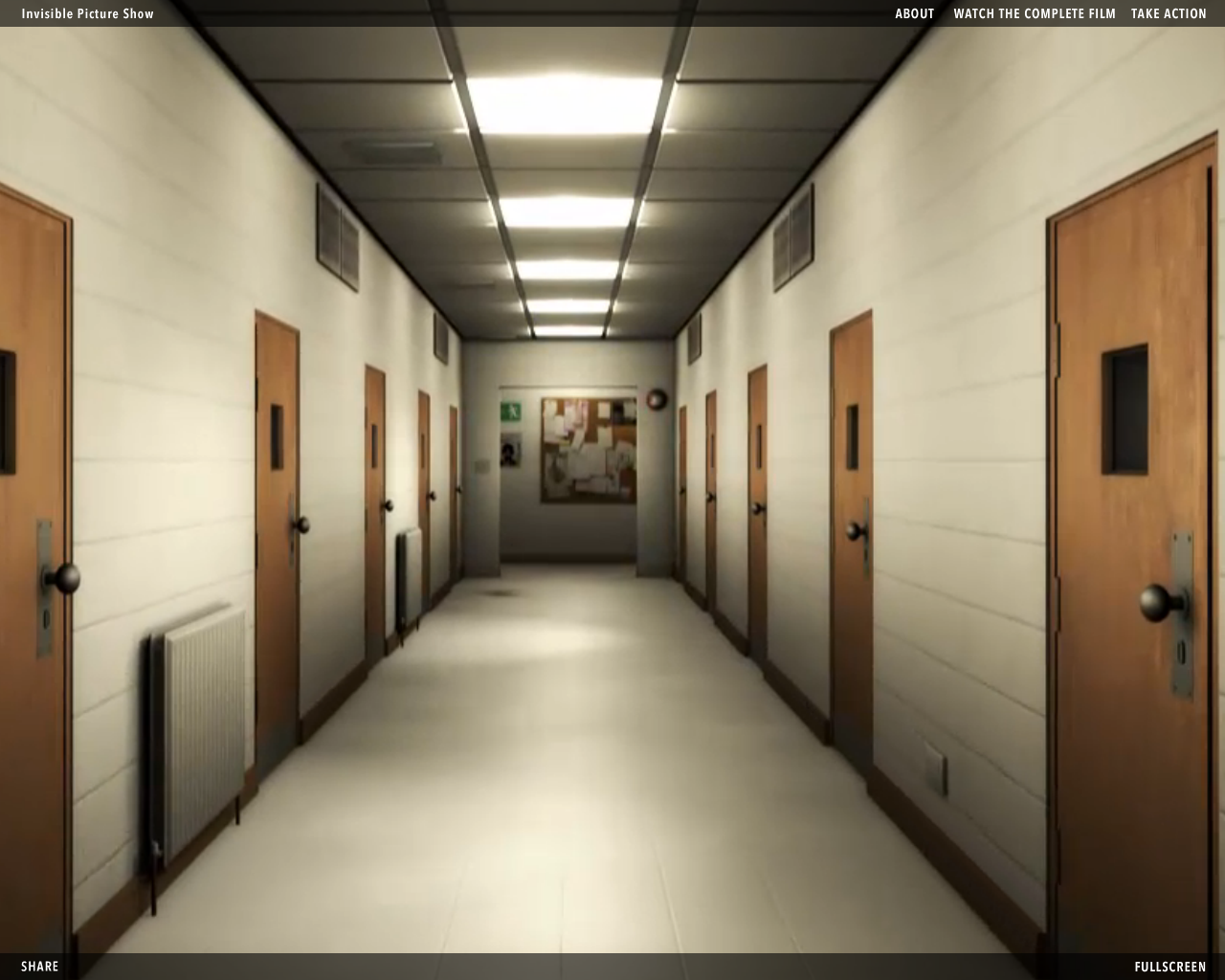 SG: Where did the idea of Invisible Picture Show come from? who commissioned it?
TH: Invisible Picture Show is based on interviews  I made over the phone with children in immigration detention centers in Australia, Greece, South Africa and the USA. The project was commissioned by an organisation called International Detention Coalition (IDC) who got in touch with me after they saw 1000 Voices ( a previous film of mine about the indefinite detention of immigrations in the UK. I wanted to do something a bit different this time, so I suggested creating an interactive project and they loved the idea.
This is a truly cross-platform initiative. As well as the web documentary we have a touring short-film version, crucial for reaching places where there is no broadband, we had a live event at the UN that mixed the animation with performances from formerly detained children, and we have the online 'End Child Detention' campaign.
IDC were fantastic and gave us complete creative freedom on the project. They were incredibly supportive and trusting.
SG: why did you decide to make it look as a 3D world?
TH: I always wanted this tension between presence and absence, which is what the title 'Invisible Picture Show' is about, and comes from the feeling that I had speaking to the children over the phone from their distant cells. When I approached Laura Jean Sargent (production designer) and Rob Sargent (creative technologist) to create the website I had another concept in mind. However, they felt there was something missing; the whole thing was becoming too distant, and so they suggested the idea of using virtual environments as a way to contextualise the animations. This developed into the '3D worlds' that you see now. The projections and voices create a presence that also accentuates the invisibility and absence of the subject. It is a haunting experience and a really immersive atmosphere.
SG: which design options did you consider for where to put your call to action?
The call to action was a fundamental aspect of both storytelling and design from the start. Dramaturgically I think it's important to create an open-ended narrative that invites participation as a way to 'resolve' the story. If the audience is left wanting more, I believe they are more likely to take further steps to satisfy this need for closure.
Originally the option was going to be given once the viewer had experienced all four environments, however we realised that some people might want to have just one experience and then take action straight away!
There are several different options for participation in the campaign: An online petition, a video uploads page for under 18s, a social media 'badge' and the opportunity for organisations and individuals to arrange their own screenings and workshops on the issue.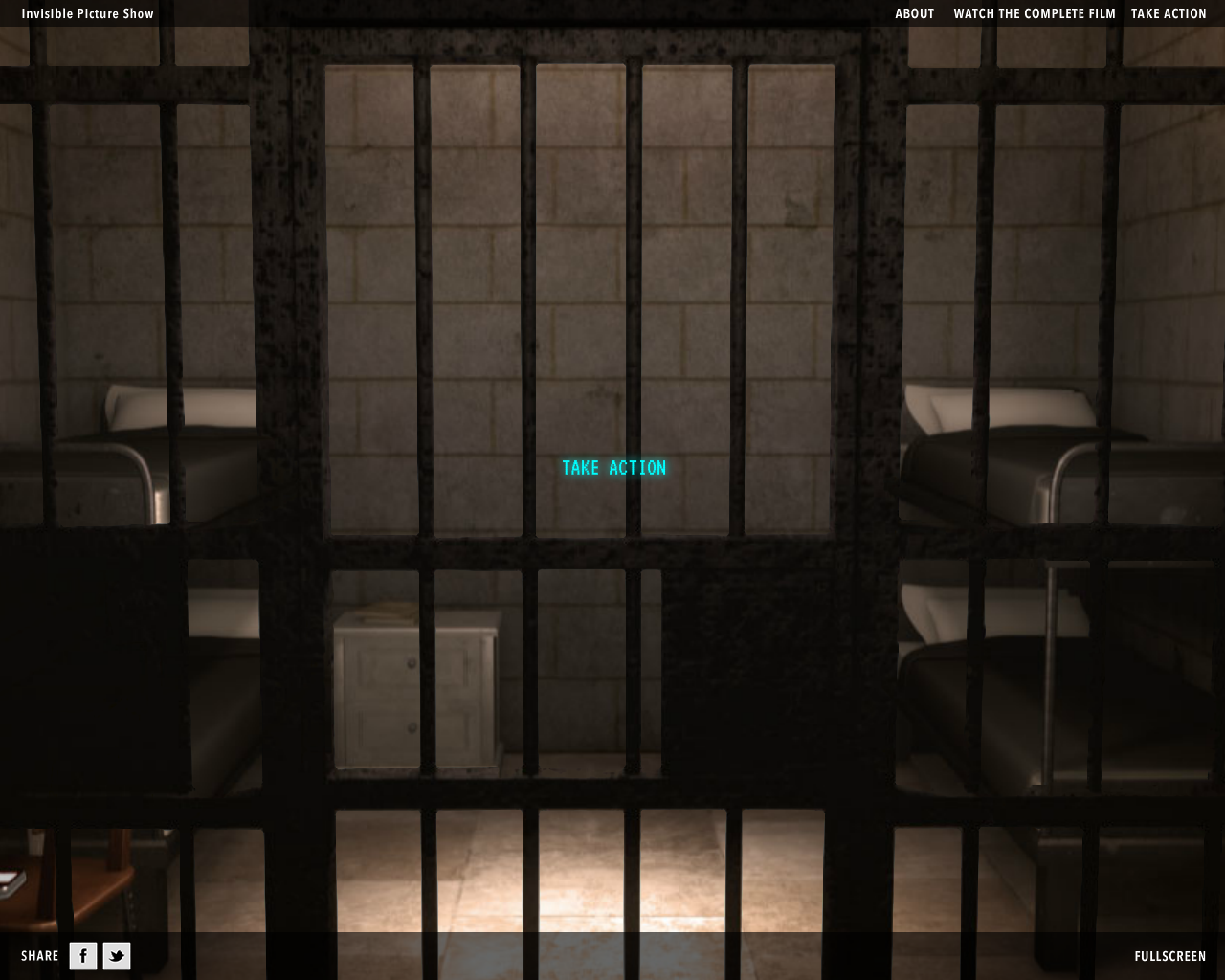 SG: how long did it take to produce and how many people worked on it?
TH: It took a year and a half to make and involved over a hundred people, from production to all of the grassroots organisations who helped us to get access to the stories around the world.
The core creative team was myself, the five animators: Alex Smith, Blinkin Labs, Cinema Iloobia, Duncan Brown and Nandita  Jain, the production designer, Laura Jean Sargent and the Creative Technologist, Rob Sargent.
SG: can you tell us the budget?
TH: It was very low! Most definitely in the 'sub-£10,000' bracket. More than half of our budget came through a crowdsource campaign on Pozible, an Australian platform. We chose that one because Australia is one of the few countries where child detention is a widely know issue.
When you work with such a small budget you see just how dedicated people are to telling stories that matter and supporting important causes. I think it's good for people to realise that this kind of project can be done on a budget, although of course I'd prefer everyone to be paid their full rates!
It would have been impossible without the amazing support of everyone at Faction Films (
www.factionfilms.co.uk
) in particular Sylvia Stevens and Caroline Spry who were amazing, also Cris Obudo from Thames Pictures and Jeroen Van Hove at the IDC who commissioned the project and who co-ordinated all of the grassroots organisations who got me access to the children for the interviews, and
SG: when did you launch and what has been the impact so far? 
We've only just launched so it's hard to gauge. We're working with several media partners to extend our reach considerably over the next few months. Any help will be gladly accepted!
SG: lessons learned so far…?
How long have you got!?
This was my first transmedia project so the learning curve was huge, and I am very lucky that the technologist, Rob Sargent, has the patience of a saint! It was an organic process, which could be a euphemism for chaotic, but when you're working on such a small budget it's very difficult to have a rigid workflow, and there has to be room for a bit of back-and-forthing.
The level of creative collaboration was astonishing with ideas coming from everyone involved. I always loved the collaborative nature of filmmaking, but transmedia is next level. It's a bit like a director arriving on set without knowing how a camera works, you have to feel your way through and trust the expertise and experience of others.
Thanks Tim for this interview!